Umbrellas, ice scrapers, and now bike locks are available for check out!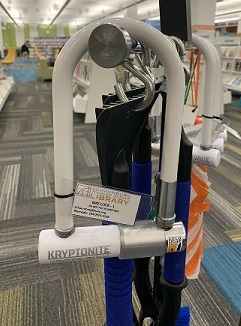 All three Library locations now have Kryptonite brand u-locks for patrons to use to lock up their bikes. The locks are housed with the umbrellas and ice scrapers so you can quickly and easily grab one and check it out.
A few details about borrowing a bike lock:
Grab a lock from the rack and bring it to the check out desk. Staff will retrieve the corresponding key for the lock.
Schaumburg Library cardholders only.
Bike locks cannot be put on hold.
Check out is for 7 days and they can be renewed up to 4 times.
The fine is 10¢ per day.
There is a limit of 3 per card.
Bike locks should be returned to a desk, not in a book drop.