If there's one thing readers love nearly as much as books, it's sharing their insights with fellow readers. Book clubs are the perfect way to do that, and our Book Club in a Bag is the perfect way to accommodate your book club.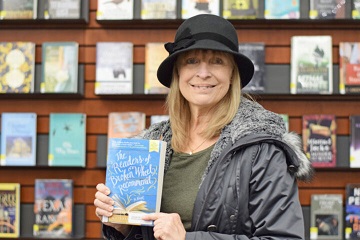 Thea Heitman of Schaumburg, who enjoys participating in two book clubs, loves the accessibility and selection of using Book Club in a Bag.
"It's convenient and easy for everyone to get the book," Thea said. "And I like the length of time we get to keep them – six weeks."
Thea has belonged to one book club for seven years and another for four, but one of the groups began meeting long before she joined. "They used to have to find the books somewhere and sometimes they couldn't get enough copies. Once Book Club in a Bag came out, that made it more convenient."
The groups primarily read fiction, she said, adding they occasionally dabble in non-fiction as well. "Because of Book Club in a Bag, I've read a lot more variety," Thea said. "I've absolutely loved some titles we've read that I never would have chosen on my own."
It's easy to reserve Book Club in a Bag for your next book club title with our online reservation calendar, or by calling the Fiction Desk at (847) 923-3140.
Each Book Club in a Bag contains 10 copies of the selected title and suggested discussion questions to help get the conversation rolling. And with over 100 titles to choose from, you're sure to find a book to suit your group.