Marlene Jones has always made it a priority to stay connected and active in the community.
"I work with my church group to bring in presenters," she said. "I love the programs and book clubs at The Barn. And I like to go to the Library for programs, too, but it's tougher these days."
At 82, it's not as easy for Marlene to get around as it once was. That's why she's so grateful for the Library's home delivery service.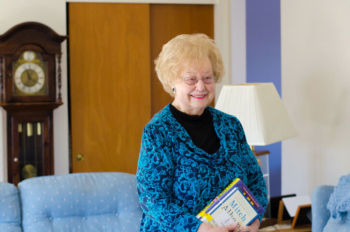 "I love to read mysteries, just like my mother did," Marlene said, noting some favorite authors are Linda Castillo and J.D. Robb. Just at this visit, Marlene was returning a Stuart Woods book and outreach associate Sandy Kurth brought her one of Lee Child's newest titles.
"Sandy is so personable, always on time and brings me everything I ask for. I have to try not to keep her too long because I know she has other deliveries to make," Marlene said.
"It's always a treat to see you on my list, Marlene," Sandy replied.
Marlene admits she's no tech-whiz, but she does have a computer and so she emails Sandy her requests and Sandy always comes through, bringing Marlene a new batch of items every two weeks. She also keeps Sandy's card handy and has a magnet on her refrigerator with the Library's home delivery phone number, so she can easily stay in touch.
Sandy has been making home deliveries for just over a year. "It's so different from other positions I've held at the Library," she said. "I love being out in the community and connecting with people. There are some deliveries I make where I feel like Ed McMahon, handing out a check for a million dollars – people are just so happy to get books and movies from the Library brought right to their door."
Our home delivery services are available to anyone with mobility concerns, or vision or hearing impairments. Contact Sandy at skurth@stdl.org or (847) 923-3392 to see if you qualify and to start having Library books, movies, music and games to your home.