You can find about 400 print magazines and newspapers at the Library. Amazing, right?
Serials supervisor Cindy Barger selects titles to be included in our collection. She's worked at the Library for about 27 years and has seen how what's popular changes over time.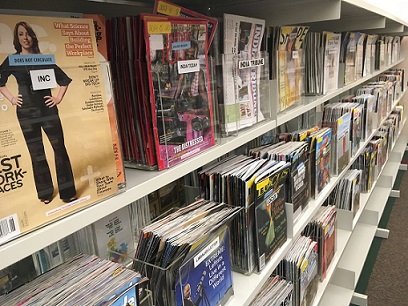 The category with the most circulation now? Gossip mags.
"Then I look for cooking because surely that would be a close second," Cindy said. "Our cooking magazines fly off the shelves."
Home decor and health are the third and fourth most popular topics.
Current issues of magazines cannot be checked out, but older issues have a 7-day checkout period. They cannot be renewed.
We keep back issues of most magazines for two years, with a few exceptions. National Geographic, for example, we have in print all they way back to 1906.
If we don't carry a title in print or you'd rather read magazines on your device, try RBdigital. You can find titles there like The Economist, US Weekly, The New Yorker, and Good Housekeeping.