The Central Library's Second Floor is home to six art pieces from a local artist tied to a lot of local history.
Martyl Langsdorf was an acclaimed landscape artist whose work appeared in many exhibits, galleries and museums – although her most famous design was the Doomsday Clock illustration for the Bulletin of Atomic Scientists.
Locally, she was also known as the owner and caretaker of the Schweikher House, which is listed on the National Register of Historic Places.
Martyl's father was a photographer and her mother was involved in the St. Louis art world. After college, Martyl followed in her parents' footsteps and studied at an artists' colony in Colorado.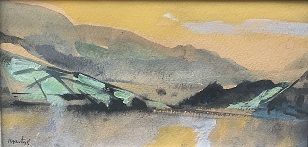 But her life took a different turn – one that led to Schaumburg – when she married a nuclear physicist named Alexander Langsdorf, Jr.
They moved to Chicago in 1943 when Alexander was asked to work at the Argonne National Laboratory. It was during this time that Hyman Goldsmith of the Universty of Chicago and the founder of the Bulletin of Atomic Scientists asked Martyl to design a cover for the Bulletin. Martyl responded with the familiar representation of the Doomsday Clock that has been on the cover of every Bulletin since its inception in June 1947.
With their two children, the family found a home in the Schweikher House off Meacham Road, built by noted Chicago architect Paul Schweikher using Japanese influences.
Martyl continued her art for the next 60 years, and fought to protect her home – even when the Metropolitan Sanitary District of Greater Chicago threatened to condemn it. The Langsdorfs worked to have the property named to the National Register of Historic Places before the district purchased it in 1989.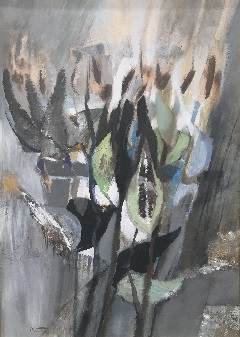 As part of the negotiated contract with the District, the Langsdorfs were granted life tenancy in the house. The Village of Schaumburg purchased the home in 1999 – the same year that Alexander died – and allowed Martyl to maintain the house as her residence until her death in 2013.
Martyl's artwork is still found in the Schweikher House, as well as in the Library near the Rasmussen Room.
Michael Madden, former Library executive director, said the pieces were purchased between 2001 and 2006.
"A few needed some refurbishing and Martyl took them to her studio here in Schaumburg for restoration," Madden said. "I had regular communication with her throughout this process and once went over to her studio with one of the paintings that needed some work. She was so excited and grateful about this collection."
You can read more about Martyl's ties to Schaumburg and the Schweikher House on Local History Librarian Jane Rozek's blog.