We're proud to welcome Jennifer Hunt as our new Deputy Director.
Jennifer Hunt comes to our Library from Lincolnwood Public Library District where she served as the Head of Information Services for five years, and recently as Interim Executive Director. Prior to her career in libraries, she worked in software project management and business analysis.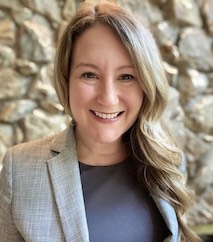 Schaumburg Library's Deputy Director position has been vacant since December of 2019 when former Deputy Director Annie Miskewitch moved into the Executive Director role.
"Jennifer truly stood out in a slate of excellent, qualified, enthusiastic candidates," said Executive Director Annie Miskewitch. "Her experience overseeing teams and her strategic mindset will be assets for our Library."
"Schaumburg Township District Library is a world-class library with a talented and accomplished staff of library leaders," Hunt said. "I am excited and honored to join the team and look forward to collaborating on new and innovative ways to serve the Schaumburg Township community."
Both Miskewitch and Hunt believe libraries should be safe and welcoming for all, and are dedicated to our mission and to serving the residents of Schaumburg Township.
"The ability of a library to adapt is evident now more than ever," Hunt said. "Libraries should be really proud of everything we have accomplished during this incredibly challenging time. And I'm ready to continue the work of change, progress and innovation at Schaumburg Township District Library."
Jennifer Hunt begins as our Deputy Director on Monday, September 14, 2020.