"I've been coming to the Library since the 70s," says Maureen Fencl, a frequent visitor of Schaumburg Library who also worked here for more than 20 years. "I love reading and paperbacks are the easiest. I can slip them into my purse and take them anywhere."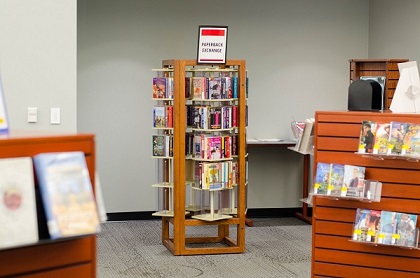 That's just one reason why Maureen loves our paperback exchange, found in the Fiction Room at the Central Library. Another great perk of the exchange: these books are free for the taking. No due date, no overdue fees, no checkout required. Just take one and, if you'd like, leave one!
We keep the collection stocked with fiction books of all genres. "I never had a problem finding something to read," Maureen notes.
You can also find our paperback exchange at the Schaumburg Metra station. Take a book when you're on the go, or leave a book you've finished reading so others can enjoy it, too.