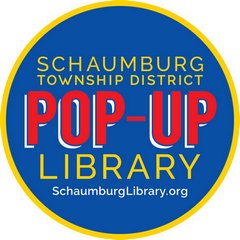 What's the Pop-Up Library?
Children's books, activities, costumes, games, crafts and more - all right at your door.
Why is it coming here?
We know it's not easy for everyone to come to one of our three locations, so we're bringing the Library to you - along with plenty of books, learning and fun!
Can I check out the books?
Of course! You don't even need a Library card. Simply sign your name on a book card, then return the books at the Pop-Up Library's next visit, or at any Schaumburg Township District Library location. There are no late fees - just bring the books back when you can.
Where will it be this summer?
Here are the locations we'll be visiting:
21 Kristin Condominiums, 21 Kristin Drive, Schaumburg
Autumn Chase Apartments, 725 Bode Road, Hoffman Estates
Campanelli Elementary School, 310 S. Springinsguth Road, Schaumburg
Church of the Holy Spirit Food Pantry, 1449 W. Bode Road, Schaumburg
Collins Elementary School, 407 S. Summit Drive, Schaumburg
Enclave Apartments, 700 N. Salem Drive, Hoffman Estates
Hanover Highlands Elementary School, 1451 Cypress Ave., Hanover Park
Lakeview Elementary School, 615 Lakeview Lane, Hoffman Estates
Legend Park Apartments, 305 Cambia Drive, Schaumburg
Spring Valley Nature Center, 1111 E. Schaumburg Road, Schaumburg
Steeple Hill Condominiums, 580 Mesa Drive, Hoffman Estates
Town Square Gazebo, 130 S. Roselle Road, Schaumburg
Triphahn Center, 1685 W. Higgins Road, Hoffman Estates
Versailles on the Lake Apartments, 1024 N. Plum Grove Road, Schaumburg
Village in the Park Apartments, 1417 Valley Lake Drive, Schaumburg
Village Park Apartments, 985 Grand Canyon Parkway, Hoffman Estates
Volkening Lake, 900 W. Schaumburg Road, Schaumburg
Wacky Wagon at Bock Neighborhood Center, 1223 Sharon Lane, Schaumburg
Wacky Wagon at Community Recreation Center, 505 N. Springinsguth Road, Schaumburg
Wacky Wagon at Meineke Recreation Center, 220 E. Weathersfield Way, Schaumburg
Woodbury Place Apartments, 1010 Knollwood Drive, Schaumburg
Can I ask more questions?
Of course! For even more information about our Pop-Up Library, please contact Chris Murray at cmurray@stdl.org or (847) 923-3430.
Where can I see the schedule?