Documentary artist James Bowey has spent his career covering global and national stories, and working to bridge social division through education and media. We're proud to bring his exhibit "When Home Won't Let You Stay" to our Central Library, March 1 – May 23.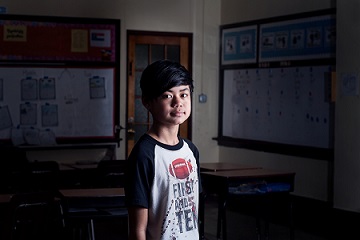 To create the exhibit, Bowey traveled the state of Minnesota, meeting refugees, listening to their stories and photographing their portraits. In the exhibit, each photo is accompanied by a portion of each refugee's first-person account, making the refugees co-authors of the work. These individuals bravely share their stories of violence and loss, perseverance and hope.
"At first, we were struck by these beautiful portraits," notes Creative Services Librarian Stephanie Driscoll, who coordinated bringing this exhibit to our Library. "And then when you add the refugees' accounts to the photos, the exhibit tells such compelling stories that we knew this was something we wanted to share with our patrons."
"When Home Won't Let You Stay" will be located on the 2nd Floor of the Central Library, March 1 – May 26. Additionally, artist James Bowey will host a program about his experiences creating the exhibit on Thursday, April 25, 7-8:30 p.m. in the Central Workshop.