Read the book. Join the conversation. It's that simple! Big Read with us this fall, Sept. 15 - Oct. 27, 2018.
For our inaugural Big Read, we're reading The Namesake by Jhumpa Lahiri.

About NEA Big Read
NEA Big Read is a time for everyone in our community to read the same book and have conversations about the book and its themes. It's a new way to bring us all together to talk about families, immigrants, finding yourself in a new place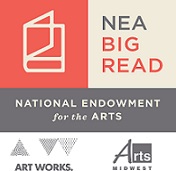 and uncovering your own identity.
NEA Big Read is a program of the National Endowment for the Arts (NEA) designed to broaden our understanding of our world, our communities and ourselves through the joy of sharing a good book. We're proud to be one of 79 organizations to receive an NEA Big Read grant this year to support this initiative. The NEA presents NEA Big Read in partnership with Arts Midwest.
Send your questions, thoughts and feedback to bigread@stdl.org.
Little Read
Your whole family can Big Read with us thanks to our Little Read books that address similar themes of finding yourself in a new place and uncovering your own identity.
I'm New Here by Anne Sibley O'Brien – a picture book recommended for ages 5-8
Save Me a Seat by Sarah Weeks and Gita Varadarajan – a chapter book recommended for ages 8-12
When Dimple Met Rishi by Sandhya Menon – a young adult novel recommended for teens
Get your kids talking with these Little Read Conversation Starters. 
How to Participate
Talk About It
Join the conversation. Register for any of our Big Read Discussions to talk about The Namesake with others in the community.
Attend a Program
Extend your Big Read experience with these related programs.
11
OCT

Henna
6-7 p.m.
Teen Program Room
Visit the Exhibit
From Sep. 15 – Oct. 15, we're hosting a special exhibit from Changing Worlds titled "The Immigrant Experience through the Eyes of Teens." Through painted images, photographs, collage, poetry and prose, teens share what it was like to leave their home countries and adjust to their new lives in Chicago. Stop by the Central Library during our regular hours to check out the exhibit.
DIY Discussions
Host your own Big Read discussion for family, friends, neighbors or coworkers using our DIY Discussion Guide. The guide includes discussion questions and suggestions to spark rich, engaging conversation about The Namesake.
Write Your Own Story
Writing a short story is no easy task. But that's just what we're asking you to do in our Flash Fiction Contest. To tie in with our Big Read, this year's theme is: finding yourself in a new situation. Learn more and enter the contest.
Diverse Read
You can Diverse Read while you Big Read! Our new Diverse Reads initiative encourages you to read outside of your comfort zone by reading books from different perspectives about a wide range topics. Find out how to get started with Diverse Reads.
Read Alikes
Did you enjoy reading The Namesake? Try some of these similar titles.
Community Partners
Many thanks to our Big Read community partners!