Learn more about Library resources: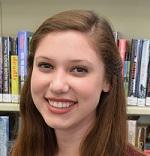 Samantha Eichelberger
Take a field trip to the Library! We welcome all public, private and parochial schools to bring classes for a visit. Homeschool groups, preschools, daycares and home daycares also are welcome.
If you can't make it to us, the Library will come to you! We will visit your classroom for a 30-minute interactive presentation highlighting children's literature and library information.
Are you a preschool teacher? We'll do storytime! Contact kidsZone at (847) 923-3439 to set up a date and time.
Library Resources