Learn more about Library resources: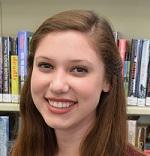 Samantha Eichelberger
Take a field trip to the Library! We welcome all public, private and parochial schools to bring classes for a visit. Homeschool groups, preschools, daycares and home daycares also are welcome.
If you can't make it to us, the Library will come to you! We will visit your classroom for a 30-minute interactive presentation highlighting children's literature and library information.
Are you a preschool teacher? We'll do storytime! Contact kidsZone at (847) 923-3439 to set up a date and time.
Library Resources
Find kid-friendly articles on every subject for homework and school projects.
Find books for kids. Search by reading level or theme, or find books you'll like based on their favorites. 
Tutors are available from 2 - 9 p.m. every day with live homework help for math, science, English, social studies and adult learning. Take ACT, SAT, AP, GED, TOEFL and U.S. citizenship practice tests.