Read the book. Join the conversation. It's that simple! Read with us this winter, December – February, as we read National Book Award finalist
Pachinko
by Min Jin Lee.
Reserve your seat for an evening with Min Jin Lee at Al Larson Prairie Center for the Arts, Thursday, Feb. 20 at 7 p.m.
About One Book, One Community
One Book, One Community is a time for everyone in our community to read the same book, sparking conversations about the book and its themes. It's a new way to bring us all together to talk about families, immigrants, survival and identity.
Send your questions, thoughts and feedback to onebook@stdl.org.
Books for Young Readers
Your whole family can read with us this winter. We've selected a picture book and a chapter books with similar themes to Pachinko so your kids can be a part of the fun and the conversation.
Dear Juno by Soyung Pak – a picture book recommended for ages 5-8
Listen, Slowly by Thanhhà Lại – a chapter book recommended for ages 9-12
What is Pachinko?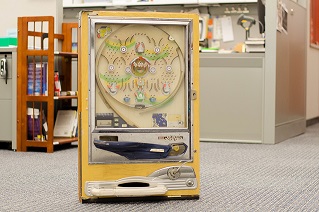 Much of the action of the book Pachinko happens in Japanese pachinko parlors. So what, exactly, is pachinko?
Pachinko machines look similar to pinball machines and were used as gambling devices, not unlike slot machines. We'll have one on display at our Central Library throughout One Book, One Community.
Players load one or more balls into the machine, then fling them using a spring-loaded handle. It's a game of chance as you wait to see where the ball lands and if you'll earn a pay-out.
How to Participate
Meet the Authors

We're very excited to welcome Pachinko author Min Jin Lee for a special evening on Thursday, Feb. 20 at the Al Larson Prairie Center for the Arts. Join us at 6 p.m. for hors d'oeuvres, followed by an evening with Min Jin Lee beginning at 7 p.m. Books will be available for purchase and signing thanks to Read Between the Lynes bookstore.

Talk About It

Join the conversation. Register for any of our One Book, One Community book discussions to talk about Pachinko with others in the community.

Tune In to our Podcast

Pachinko is a long book. We know.
To help those of you who may not have enough hours in the day to read the whole book but still want to be part of the conversation, we're creating a podcast. We're creating six short episodes, each discussing a section of Pachinko, making it easy for you to follow along with this great story, even if you don't have time to read all 479 pages.
Check back here as we release our Read With Us podcast. You'll find it on Apple Podcasts, Google Podcasts, Stitcher and Spotify.
Attend a Program

Extend your One Book, One Community experience with these related programs.


5
FEB

DIY Designs
3:30-4:30 p.m.
Central Library - Craft Room
Visit the Exhibit

From Jan. 4 – Feb. 20, we're hosting the special exhibit "Exploring Korea through Korean Stamps," presented by Jin Lee, president of the Keumsil Cultural Society. Korean arts, culture, politics, sports and U.S.-Korea relations are all showcased through stamps issued from 1884 to present. Stop by the Central Library during our regular hours to check out the exhibit.
Book Club in a Bag

We make it easy for you to host your own One Book, One Community book discussion with our Book Club in a Bag. Check one out to receive 10 copies of Pachinko, along with the discussion guide with questions and tips to get your group talking.

DIY Discussions

Host your own One Book, One Community book discussion with family, friends, neighbors or coworkers using our DIY Discussion Guide. The guide includes discussion questions and suggestions to spark rich, engaging conversation about Pachinko.
Get a Summary

We've said it before, we'll say it again: Pachinko is a long book. To help you as you make your way through, we've creating this reading guide, including character listings, a family tree and a plot summary.
Read Alikes
Did you enjoy reading Pachinko? Try some of these similar titles.